The Wendy Lynn Group with Fine Properties in Sarasota
Wendy Lynn
When I moved to Florida from Ohio in 2005, it did not take long for me to fall in love with the Lakewood Ranch and Sarasota Area. I had worked in the banking and finance industry after graduating from Ashland University. With my husband's encouragement and support, I transitioned from banking into real estate in 2008. That year may not have been the best time for the industry but it was the best time for me. I welcomed the challenge and the excitement of a new career. My background in finance has been very useful for my clients and my love for the Sarasota, Bradenton and Lakewood Ranch areas has been even more important. Moving to Florida made me appreciate a quality of life that I was not used to. I have said many times to my husband, "We really live here, can you believe it?" This area has become home to us and we couldn't imagine living anywhere else.
My professional network extends well beyond my fellow Realtors. I often refer my clients to lenders, attorneys, contractors, landscapers, interior designers, movers and others who can make your life in Florida more comfortable. I know all the builders in the area and can help you with choosing your new construction home. I am also connected to many Realtors around the country if you need to sell before you get here I would be more than happy to connect you with one. Ask me about neighborhoods, amenities and the comforts of Florida living. I have come to learn a lot about the communities in my area and I can tell you with absolute certainty that this is the place you'd like to call home.
What is it that I love most about my career as a Realtor? Helping You! Seriously, the day when we find you the "right" home, the day we get an offer on your home, the excitement on your face or in your voice…..Makes it all worth it!
DESIGNATIONS
Check out our Testimonials Page!
Josh Lynn
I have a diverse background in various industries that have been helpful in my present career in real estate. I am originally from Ohio, where I studied Business Management at the University of Toledo. I worked at Nortel Networks as a field technician for a few years until economic conditions forced me to switch gears. Later I was a sales representative for the construction products industry; this job introduced me to the world of do-it-yourself home improvement and restoration.
Working at Nortel Networks piqued my interest in Internet technologies, which moved me to pursue certifications in computer repair and network installation and maintenance. I later obtained certifications in HTML programming, CSS and search engine optimization (SEO). By then my wife Wendy was already working as a Realtor and I helped her grow with online marketing. I realized the significance of her work and her contribution to the community, especially in the way she helps her clients see the finer points of living in Florida.
Working in real estate has also made me aware of how advanced Southwest Florida is in terms of regional housing markets. Certain aspects of suburban development like master-planned communities, nature conservation and energy-efficient homes are fascinating in the way they help neighborhoods improve quality of life. This really impressed me when I moved to Florida and I see the same when we help clients from out of town.
Aside from marketing, I enjoy showing homes with my wife and making sure that important details like home inspections and pest control are carried out prior to closing. I have learned that being a Realtor gives me a chance to make a difference by helping the community grow.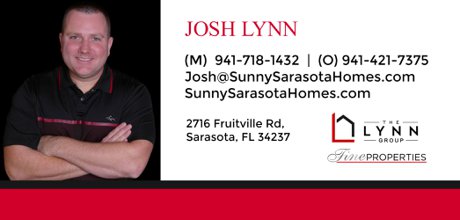 Check out our Testimonials Page!
Amanda Hodges
Amanda (Mandy) Hodges is a Licensed Realtor with Fine Properties in Sarasota and Lakewood Ranch Florida. She joined The Lynn Group in 2019 to work with buyers and sellers in Sarasota & Manatee County which includes Parrish, Palmetto, Bradenton, the Sarasota Keys (Anna Maria, Longboat Key, Lido Key, Siesta Key) and more.
Mandy was born and raised in Orlando, Florida, relocating to the West Coast in 2004 and majoring in Interior Design with a Bachelor of Fine Arts Degree. Upon graduation, she had the opportunity to work alongside a Structural Engineer where she became proficient in drafting building plans for commercial and residential construction. From there she transitioned into Interior Design, focusing on high-end residential homes. Mandy has over 12 years of experience in designing, decorating and home staging for residential home buyers, as well as residential home builders. With her extensive knowledge and experience in construction and Interior Design, Mandy looks forward to assisting her clients in their quest to find their dream home. From new construction to renovations, Mandy specializes in helping buyers and sellers envision their home goals, walking them through the process every step of the way.